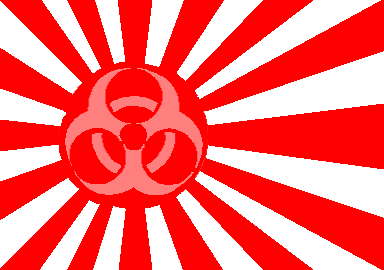 LATEST NEWS On Japanese NeoNationalist And Refusals To Acknowledge The Wear Atrocities Of World War II
December 5, 1996 -- Historians query U.S. ban on suspected war criminals ( Reuters )
TOKYO (Reuter) - Japanese historians critical of their country' s reluctance to come to terms with its own war past question the motives behind a U.S. decision to ban 16 Japanese suspected war criminals from entering the country.
The Justice Department said Tuesday it would block the 16 from entering the country under a 1979 law that bars individuals implicated in acts of persecution committed by Nazi Germany or its wartime allies. It is the first time Japanese have been placed on the department' s "watchlist."
The Justice Department did not identify them except to say they were members of the Japanese army's Unit 731, which conducted experiments on "human guinea pigs," or were involved in recruiting sex-slaves or running brothels for the army.
Professor Keiichi Tsuneishi of Kanagawa University, who has done research on the infamous germ warfare unit that experimented on POWs during World War II, said it was the United States which first let the principals off the hook.
"The U.S. decision is hypocritical because it was the postwar U.S. occupation that struck a scandalous deal with the Unit 731 officers in the first place," Tsuneishi told Reuters.
The occupation authorities, headed by Gen. Douglas MacArthur, granted Gen. Shiro Ishii and other top officers and researchers of Unit 731 immunity from prosecution at the Tokyo War Crimes Tribunal in exchange for the results of years of their research into biological and chemical warfare.
Most of the results of the unit's research programs came from horrific experiments conducted on an estimated 3,000 Russian, Korean and Chinese prisoners of war at a secret unit complex outside Harbin in northeastern China.
The immunity meant Ishii and his colleagues never appeared in court anywhere, and most Japanese citizens were unaware of the fact until 1981, when author Seiichi Morimura exposed the unit's dark history in his book "The Devil's Gluttony."
In 1992, Japan's public television network NHK obtained and showed copies of documents stored at the U.S. Army's Dugway Proving Ground in Utah which proved that the United States received unit reports after the war.
One set showed how a prisoner was injected with a strain of the deadly anthrax bacteria, with diagrams showing how it spread through his body. Some drawings showed results of "autopsy" examinations of his internal organs, conducted while he was still alive.
The Japanese government has still not publicly apologized for the Unit 731's experiments.
"We can understand why the United States is acting now against these people, judging from their goals to carry out human rights diplomacy, " said Professor Ikuro Takagi of Japan Women's University in Tokyo.
"But it still seems rather arbitrary and too sudden. If they are serious about this why aren't they releasing names and other details? I'd like to know their real motive," he said.
Takagi has called on the Japanese government to take steps to directly compensate the thousands of Chinese, Korean, Philippine and Dutch women forced into sex slavery.
After being sued by so-called "comfort women," the Japanese government finally admitted in August 1993 that it was the army, and not private brothel owners as it had maintained for decades, that kidnapped or tricked women into sex slavery.
Even then, the government refused to compensate the women, saying all such demands were dealt with in the 1952 San Francisco peace treaty. Instead, Japan has tried to put the affair behind it by making limited welfare payments to the women from a private fund.
"At least I hope the Justice Department's announcement would do something towards persuading the Japanese government to take clear steps to admit responsibility, something it cannot escape," Takagi said.
Meanwhile, Hiroshima's mayor predicted that a U.S. decision not to support Japan's call for the A-Bomb Dome in Hiroshima to be named a world heritage site will not prevent the proposal from being accepted.
"I have no worries that the dome will be successfully named a world heritage site," Mayor Takashi Hiraoka told reporters.
Japan has proposed to the World Heritage Committee, now meeting in Merida, Mexico, that the building near the epicenter of the bomb dropped by the United States on Aug. 6, 1945, be designated a world heritage site. The domed building was one of the few left standing in Hiroshima after the bombing.
But in Washington Wednesday, State Department spokesman Nicholas Burns said: "The United States will not support the inclusion of Hiroshima as a site on this list -- essentially because we have made the decision that we don't believe that war-related sites are within the scope of the convention."
Hiraoka said: "I understand that the comments made by the U.S. government were meant for domestic consumption."
---
DECEMBER 3M 1996 -- U.S. BARS 16 JAPANESE WAR CRIME SUSPECTS ( Xinhua News Agency )
U.S. Bars 16 Japanese War Crime Suspects
WASHINGTON (Dec. 3) XINHUA - U.S. Justice department took its first action on Tuesday to bar 16 Japanese army veterans, suspected of criminal experiments during the World War II, from entering the United States.
the 16 men who served in the Japanese Imperial Army were the first Japanese placed on the government's "watch list" since it was established in 1979 to keep out people who engaged in persecution on behalf of Nazi Germany or its allies, the Justice Department said on Tuesday.
It said some of the 16 men had been members of "Unit 731" that conducted frequently lethal pseudo-medical experiments on thousands of prisoners of war and civilians.
The others are suspected of setting up and operating the Imperial Army's "comfort women stations", where hundreds of thousands of women were forced to have sexual relations with Japanese officers and enlisted men.
Eli M. Rosenbaum, director of Justice's Office of Special Investigations, which hunts war criminals, said he expected that more former members of the Japanese armed forces will be barred.
The Justice Department declined to release the names of the barred Japanese men, and spokesman John Russell said that withholding these names may serve as "a deterrent to entry by others not yet listed."
More than 60,000 people linked to Nazi persecution in Europe have been put on the "watch list" since it was established in 1979, and more than 100 people prevented from entering the United States since 1989, when record-keeping began.
And Rosenhaum's investigation office has stripped 57 people accused of being Nazi persecutors of their U.S. citizenship and 48 of them expelled since 1979. There are still more than 300 under investigation by his unit.
But it was the first action the United States took against the Japanese army veterans serving the Imperial Army during the World War II. Copyright 1996 Xinhua News Agency (via Comtex).